NAME:

 Robert Sindermann


LOCATION:

 London, UK


SPECIALITIES:

Conceptual design, digital, print, art direction, illustration, typography, visualisation, 3D modelling, branding, and drawing.
Age 13 I won a TV in a nationwide kids' art competition in Denmark. All they'd asked for was a simple drawing of a fairy tale scene but I massively over-shot the brief by creating an elaborate comic book about a moustachioed knight slaying a narcoleptic dragon on his journey to saving the princess. 
The life lesson I took away from this was that you shouldn't settle for the bare minimum of just answering what might be a simple task. Make the work as amazing as you think it should be. It may take more time and effort and occasionally you may not even slay the dragon. But it's about wanting to

DO GREAT WORK

and taking pride in your craft. 
I have a Scandinavian-German background and studied graphic design in Denmark and the UK. I started out drawing comics and designing heavy metal album covers in my spare time, and I am now an award-winning designer, art director, illustrator and team leader with 15 years' industry experience working on blue chip accounts in fully integrated agencies in London and beyond. On my journey from Junior Designer in a small marketing company to being Design Director in Campaign's Agency of the Year 2016, I've delivered outstanding work in digital, print, illustration, 3D, product design, DM, shopper, FMCG, home entertainment and cinema Point of Sale, storyboards, event design, and branding. 
Outside of work I spend far too much time worrying about the fortunes of Arsenal Football Club while enjoying life with my wonderful wife and two sons. 
I hope you enjoy my work as much as I do.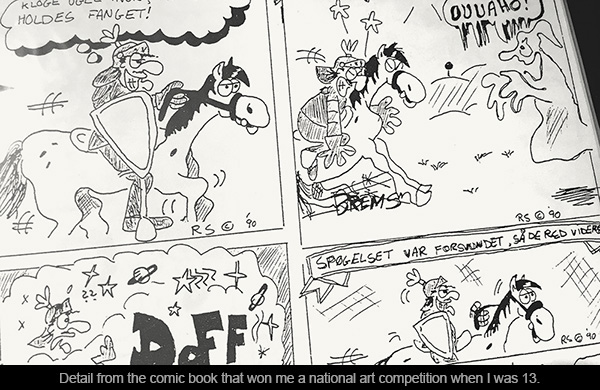 SILVER LION - Cannes Lions International Festival of Creativity for Creative Data (Lynx CALM)
BEST - Best of Digital in the CreativePool Annual 2016 (Lynx CALM)
BEST - Best of Experiential in the CreativePool Annual 2016 (Lynx Black Space)
BEST - Social Buzz Awards 2015 FMCG/Consumer Goods Social Media campaign (Magnum Pink & Black)
​BRONZE - DMAs 2015 Best FMCG (Lynx Black Space)
BRONZE - DMAs 2015 Best Use of Experiential (Lynx Black Space)
WINNER - Diageo Marketing Effectiveness Awards 2014 (Shake Up Summer 2014)
WINNER - Print Week Awards 2013 (Wonderbook: Book of Spells for Sony PlayStation)
GOLD - POPAI 2012 (Snow White & the Huntsman for NBC Universal)
WINNER - Inca Digital Excellence Awards 2012 (Snow White & the Huntsman for NBC Universal)
GOLD - POPAI 2008 (Cacharel for L'Oréal Luxury Products Division)
WINNER - Top prize in Tom's Chocolate's national children's art competition (1991). I won a bloody TV! And chocolates. Lots of chocolates.

TMW UNLIMITED (2013 - PRESENT)
SENIOR CREATIVE >>> DESIGN DIRECTOR
I began at TMW as Senior Creative (Art) and am now Design Director, heading up a design department of 15.
In 2015 I was given a very exciting task: MAKE OUR WORK BEAUTIFUL. To this end, I have been working to unite our designers, who are spread across a myriad client accounts, under a design team banner, nurturing a team spirit, educating, and most importantly creating a sense of mission: To make our work as beautiful and well-crafted as possible and tell the world about it.
During my time at TMW I have worked on numerous award-winning campaigns as well as successful pitches for Durex, Ferrero, Yellow Tail wines, McLaren, Magnum, The UK Government, Reckitt-Benckiser, the GSMA, Cardhu whisky, Logan whisky, and La Roche-Posay (L'Oréal). 
Clients I have worked on include McLaren, Vodafone, Durex, Magnum, Virgin Trains, Lynx, Sure, The Department for International Trade, Diageo (Baileys, Johnnie Walker, Guinness, Pimm's, Captain Morgan's, Grand Marnier, Cîroc, and loads of whisky brands), HSBC, The Dogs Trust, Flora, Infiniti, Nissan, Durex, Comfort, Canon, Strepsil, Clearasil, Sainsbury's, HTC, and Sony Mobile.

LICK CREATIVE (2007 - 2013)
SENIOR DESIGNER >>> CREATIVE HEAD
I began at Lick as a Senior Designer and ended up Creative Head. I oversaw the day-to-day creative on Sony PlayStation and the quality of the agency's visualisations as a whole, as well as being involved in most creative pitches on a conceptual, design and presentation level.
In my time at Lick I worked on numerous award-winning campaigns as well as successful pitches for PlayStation Europe, Pernod Ricard's drinks brands, Rockstar Games, Blacks Leisure Group, LVMH Group (Louis Vuitton Moët Hennessy), Hasbro, Disneyland Paris, History Channel, Orion Publishing, and L'Oréal Luxury Products Division.
Clients included Sony PlayStation UK and Europe, Universal Pictures, Disney, Hasbro, Blacks, Paramount Pictures, Rockstar Games, Absolut Vodka, Jameson Whiskey, Electronic Arts, Orion publishing, Stella Artois, Kellogg's, Weetabix, Jacob's Creek, L'Oréal, Adidas, LVMH, Reebok, History Channel, Tesco, and Warner Bros. Games.

EXPERIENCE: QUANTUM MARKETING (2002-2007)
JUNIOR DESIGNER >>> SENIOR DESIGNER
At Quantum I evolved from Junior to Senior Designer. During this time, I worked in virtually all areas of design, including brochures, websites, on-pack promotions, all kinds of FSDUs and shippers, mock-ups, exhibition stands, MasterCards, promotional videos, illustration, print advertising, complete bar and restaurant branding, logos, direct mail pieces, copywriting, translation, watch design, promotional boxes, training materials, product design, packaging and any kind of POS imaginable.
 Clients included Energizer, Wilkinson Sword, Kodak, Kellogg's, Peroni, o2, The Rainforest Café, Waxy O'Connor's, Castle Lager, and Tyskie.
THE ARTS INSTITUTE AT BOURNEMOUTH
BA (Hons) Graphic Design
Sep 2000 - June 2002, Bournemouth, UK 
COLLEGE OF ARTS, CRAFTS & DESIGN
Graphic Design
Sep 1999 - June 2000, Nørresundby, Denmark